Dr. Chad Moreau , D.C. , CSCS
Specialties:
Soft tissue injuries
Fitness training
Functional nutrition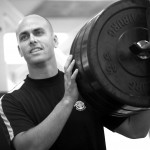 Dr. Chad Moreau is recognized as a leader in both the sports chiropractic therapy and fitness training fields. He has over 15 years of experience in the Los Angeles area working with athletes and every day people that have the athletic mind-set. From 2005-9 he was the Fitness & Nutrition Consultant for the Edmonton Oilers Hockey Club (National Hockey League). He was the Chiropractor and Strength Coach for the Long Beach Ice Dogs (ECHL) hockey team from 2000-7. Currently, in addition to his work with clients at Back to Function, he is working with the Los Angeles Jr. Kings hockey club as the Strength & Conditioning Coach. He is the creator of the online, off-ice hockey training website, HockeyOT.com. Dr. Moreau has published a number of research articles pertaining to sports injuries and training that have appeared in leading scientific journals such as the Journal of Manipulative and Physiological Therapeutics and the Journal of Sports Sciences. He was a contributing author to the 2007 NTCA Throws Handbook and was featured in the magazines Food For Thought and The Hockey News.
Dr. Moreau's education included being an NCAA scholarship track and field athlete at the University of South Carolina where he conducted original research in the field of exercise science. He graduated from Southern California University of Health Sciences magna cum laude and President's award recipient in 1998. In 2000 he was awarded a Certified Strength & Conditioning Specialty and a Certified Chiropractic Sports Practitioner qualification. He was also an assistant professor of biomechanics at the Southern California University of Health Sciences.
Dr. Moreau lives in the Hollywood Riviera with his wife, Susan, and 3 children. He is an avid recreational hockey player and loves to hike in the hills around Palos Verdes on the weekends. Contact at drchad@backtoufunction.com.
Dr. Chad Moreau's Published Research:
• Isometric Back Extension Endurance Testing
• Neuromuscular Adaptations to Training Elite Athletes
• Shoulder Instability In a Professional Hockey Player
•Circuit Training with Shawn Horcoff
• Sports Nutrition
Chad's Training Video
(click on picture above to view video)
---
Dr. Erica Witter-Davis, D.C., CSCS
Specialties:
Soft tissue injuries
Speed training
Body shaping and toning
Dr. Witter-Davis is originally from Canada and moved to Knoxville to pursue an athletic scholarship at the University of Tennessee where she obtained her Bachelors of Science degree in Biochemistry and was a 3-time All-American in track and field. After her four years competing at the collegiate level, Dr. Witter-Davis continued her athletic endeavors on the world stage. She competed professionally for her country as a world class sprinter, becoming a National Champion in the 100m and 200m as well as competing at the Sydney Olympics (2000) and World Championships (2001).
During her undergraduate training, she learned about prescription interactions, vitamins and herbal supplements while working as a pharmacy technician. She held the position as the interim sprint and hurdler coach at the University of Tennessee , which allowed her to coordinate workouts, circuit training and weight programs, designed to maximize each athlete's potential. Dr. Witter-Davis was also a fitness instructor, explaining and demonstrating proper weight lifting techniques and incorporating strength, agility circuits and core strength workouts.
The realm of athletics and fitness opened the doors to chiropractic. Dr. Witter-Davis graduated from Southern California University of Health Sciences Cum Laude and President's Award recipient in 2008. She furthered her knowledge by becoming a Certified Strength and Conditioning Specialist which allows her to merge her knowledge of sports biomechanics and chiropractic care to work closely with many elite athletes. Dr. Witter-Davis is also a certified Kinesiotaping practitioner. She joined the BTF team in 2008 and is the senior associate doctor.
Dr. Witter-Davis lives in Culver City with her husband, Patrick. Contact at drerica@backtofunction.com.
---
Dr. Arthur Hong, D.C., CSCS
Specialties:
Soft tissue nerve entrapment injuries
Active Release Techniques (ART)
Golf injuries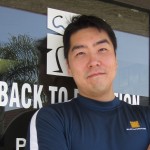 Dr. Arthur Hong is an ACBSP Certified Chiropractic Sports Physician and a Titleist Performance Insititute Level 3 Golf Medical Professional and Fitness Instructor. He is a Master's-level full-body Active Release Techniques specialist with a focus in long-tract nerve entrapments and biomechanics. He has had the privilege of working at a number of Ironman triathalons. Dr. Hong is a certified Kinesiotaping practitioner and a Graston technique preferred provider. He is also a Certified Strength & Conditioning Specialist by the National Strength & Conditioning Association. He received his Bachelor of Science Degree in Computer Science from the University of Texas and received his Doctor of Chiropractic degree from the Southern California University of Health Sciences in 2008, where he also did his post-graduate work in sports medicine.
Dr. Hong lives in Long Beach. He is a member of the Mensa IQ society and is currently training in jiu-jitsu. Contact at drarthur@backtofunction.com.
---
FEEL BETTER - PERFORM BETTER
Above: Dr. Erica Witter-Davis demonstrates sprint technique