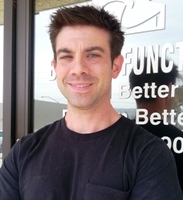 Dr. Mike grew up in New York and attended Pennsylvania State University- University Park, earning a Bachelor's of Arts in Political Science and a minor in Philosophy with honors. After graduating, Dr. Mike returned to New York to attend law school but soon realized that this was not his true calling. During this time, he also taught ballroom dance and was a professional DJ. In 2002 Dr. Mike moved to Los Angeles and enrolled in Cleveland Chiropractic College to further his studies, this time in biology and biomechanics with a concurrent degree in chiropractic. During his time at Cleveland, Dr. Mike was an anatomy, biochemisty, biomechanics and microbiology tutor. He graduated from Cleveland Chiropractic College, Summa Cum Laude in 2006.
Dr. Mike has more than 8 years of clinical experience in the diagnosis and management of sports and soft tissue injuries. He has completed hundreds of hours of continuing education course work in pre- and post-operative care, sports injuries, as well as in strength and conditioning, and soft tissue techniques. Working hand-in-hand with orthopedic surgeons, Dr. Mike has also observed countless surgeries and in-office procedures. Believing in a multi-faceted approach to healing, he has had the privilege to work with professional, amateur and weekend warriors and understands the importance of both preventative and proactive therapy.
In his spare time, Dr. Mike enjoys spending time with his wife Jaime, step-daughter, and two dogs. He loves to do home improvements and continues to DJ and Emcee on the weekends.
Specialties:
Soft tissue injuries
Pre & post-operative care
Functional training
Contact at drmike@backtofunction.com.