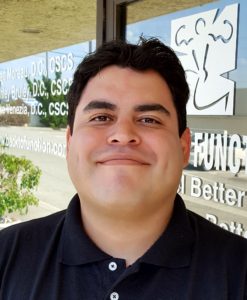 Dr. Vincent Ibanez attended the Cleveland Chiropractic College Los Angeles where he studied Human Biology and Biomechanics. In 2011, he furthered his education and began his post-graduate studies in chiropractic at Southern California University of Health Sciences (SCU). During his time at SCU, Vincent was an active member and president of various clubs and organizations, which hosted several events on and off campus to promote chiropractic around the surrounding communities. Dr. Vincent has volunteered as a chiropractor for many events, including, Healing Hands for Humanity, Anaheim Hills Fire Cracker 5K/10K medical team, Dream Center/Los Angeles Dodgers community events and local community free clinics.
Along with his education, Dr. Vincent brings over 10 years of youth, high school, and collegiate football coaching experience. During his coaching career, Dr. Vincent was heavily involved in player/program development, strength and conditioning, and game day quality control. Working with these motivated athletes from all different levels has prepared Dr. Vincent to work with client who wish to return to athletic competition, a highly active lifestyle, or a physically demanding work environment. Dr. Vincent joined the BTF team in 2017.
Specialties:
Soft tissue injuries
Conditioning for team sports
Functional training
Contact at drvince@backtofunction.com.